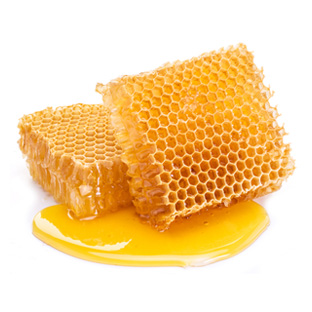 Beeswax (cera alba) is a natural substance produced by honey bees, and used to develop their honeycombs.
Just as with honey, beeswax boasts a long tradition in cosmetology due to its amazing beauty properties.
Beeswax is an excellent emollient- even for very dry skin- hydrating and soothing the complexion, while forming a protective barrier and sealing the moisture inside. It manages all these without clogging the pores. Leaving the skin able and free to 'breathe', it is ideal for those suffering from acne.
Additionally, it protects and gently treats the sensitive skin, soothing irritation, itchiness and redness. As a powerful antibacterial agent, it is found to alleviate the irritation caused by eczema and psoriasis, preventing further infection.
Beeswax has a high concentration of vitamin A, meaning that it enables the skin's regeneration, reduction of wrinkles, fine lines and other signs of skin damage.
Being topically applied to problematic areas of the body, such as stretch marks which are formed due to rapid gain and fluctuations of weight, beeswax has the ability to moderate unwanted appearance, offering more even and elastic skin.
Our beauty care products contain certified organic beeswax, ensuring that they are pure and safe, offering all the incredible properties of beeswax in full!